Bankrupt group puts four hotels up for sale
Wed, 14 Feb 2018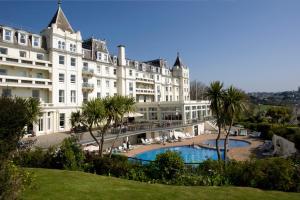 Four hotels in the South West of England have been put up for sale after their owner was forced into administration earlier this year.

Richardson Hotels and Fowey Hotel Group, part of the wider Richardson Group, called in administrators after the tax man issued winding up petitions to the two subsidiaries in November 2017.

The Richardson Group has now appointed property firm Colliers International to market four of its hotels - the Metropole Hotel in Padstow; the Falmouth Hotel, Falmouth; the Fowey Hotel in Fowey; and the Grand Hotel, Torquay – formerly operated by the bankrupt divisions.

All four of the hotels will trade as per usual while a seller is being found, said Ed Jefferson from the South West hotels team at Colliers International.

He added: "Richardson Hotels Ltd and Fowey Hotel Ltd have gone into administration, creating a unique opportunity for hotel operators to acquire some of the best-known hotels on the South West peninsula. All have great features that will appeal to a wide range of buyers.

"Interested parties are invited to make an offer either individually, in clusters or as a group. Our clients will decide what offer or combination of offers to accept in order to satisfy the needs of the administration."

The Richardson Groups founder, Keith Richardson, said last year that though he expected business to carry on as usual, he had spent too much money on the Grosvenor Hotel and had "run out of money".

He added that selling a hotel would factor into the Group's plans and would let it continue to operate in the future.

Mark Boughey and Matthew Wild of RSM Restructuring Advisory LLP were appointed in November as joint administrators of the two firms and are still working to move the parent company forward.
Subscribe today to read and search all our news, premium articles, business sale listings and buy/sell resources.
Do you want to gain access to the latest businesses for sale as well as all UK administrations, liquidations and all winding-up petitions?
Business Sale Report is your complete solution to finding great aquisition opportunities.
10 Biggest Buyer Mistakes
Fill in your details below to get our FREE guide